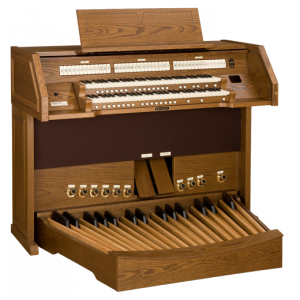 Fully customisable in every aspect and with a totally authentic sound, the Envoy range of organs is the most accurate recreation of true pipe organ sound available on the market today.
This incredibly flexible organ was developed using Viscount's Physis® (physical modelling) technology, faithfully reproducing the incredibly deep and powerful majesty of the "King of Instruments" within a compact, digital environment.  The Envoy's library of customisable settings makes for an almost unlimited range of sounds and registers, easily stored, assigned and accessed through its intuitive main control display.
A truly beautiful, hand-crafted instrument, the Envoy seeks to embrace traditional, detailed workmanship in perfect harmony with state-of-the-art technology. This makes it our most popular organ choice for churches, schools and liturgical buildings with its combination of expert craftsmanship and industry leading technology.
Key features at a glance:
Designed with the organist themselves in front of mind, the Envoy provides a playing experience like no other. Each and every stop tab, thumb, draw stop and toe piston has been carefully laid out to ensure the comfort of the organist and make playing a true pleasure.
Our experts will accurately voice your instrument in its ultimate location in order to optimise the acoustic within which it will sit. Additionally, its inbuilt Physis® technology allows the organist to adjust the balance of individual stops to their preference.
Thumb piston rails and draw stop knobs are uncompromisingly crafted from solid wood, providing ultimate strength and durability with no compromise to feel and aesthetics.
Stop tabs and keyboards are authentically coloured giving the benefit of durability whist being sympathetic to the instrument's history.
Performances can be recorded through an inbuilt, powerful MIDI sequencer and replayed at the touch of a button or stored on a portable USB.