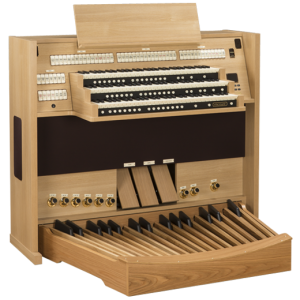 Utilising ground breaking Physis® technology to computer generate a true physical model of an organ pipe, the Sonus range reflects a completely faithful facsimile of an authentic pipe organ.
As any organist will attest, the most important part of the organ is the acoustic – the space in which it sits. Revolutionary Real Audio Rendering (RAR) technology allows the organist to configure the organ to the exact specification of the organ's environment, be that a vast Cathedral or a home practice room.
The Sonus instruments, just like the Envoy range are supplied with a huge library of voices as standard. This allows you access to literally hundreds of additional sounds from the organ's internal memory via the front panel and easily accessible tabs. Our intelligent control panel makes these transitions simple and intuitive.
The Sonus Range at a glance:
Our specially designed operating system enables the most complex of transitions with ease, making playing a pleasure.
Our experts will accurately voice your instrument in its ultimate location in order to optimise the acoustic within which it will sit. Additionally, inbuilt technology allows the organist to adjust the balance of individual stops to their preference.
MIDI compliance enables the organist to programme Receive and Transmit messages for each division.
Fully customisable through our specially designed, easily accessible front panel.
Real Audio Rendering (RAR™) enables you to configure the organ to the exact three-dimensional space within which it is housed, regardless of dimensions.